Screen Printing Services

What is Screen Printing?
Originally known as silk screening, screen printing is a process of creating a custom t-shirt. It traditionally used a silk screen that's placed over a flat t-shirt and ink is pushed through the screen, penetrating areas that are burned out, leaving ink in the designated area to create a design. DesignAShirt's silk screens have been replaced with a synthetic mesh as a means to re-use 1 screen multiple times, saving both energy, and time, and leaving the shirts to be more affordable for you!


What is Screen Burning?
An important note to make is that screens are selected by their mesh count, the lower the mesh count, the more color can be pressed through the screen after it has been burned. Burning a screen means coating a photosensitive emulsion on the screen that is imprinted with a light-sensitive ink that is then "burned" and rinsed from the screen - resulting in your artwork being left to print through! In simpler terms: we coat our screens in a specialty "paint" that coats the screen, afterward, we download your artwork into a machine that specifically lights (burns) the areas that will create your design. Every single color is burned into 1 screen so that colors are layered to fulfill the image needs. You can see our burning process below.
Why DesignAShirt for Screen Printing?
DesignAShirt has been online since 2003, and screen printing since 1985, we are continually trying perfect our processes while learning new efficient and environmentally friendly ones. Our onsite printing facility has the capability to produce 150,000+ imprints per shift. No job is too big or too small for us, to prove that our minimum screen printing order is just 6 products, although we have no minimum for digital printing.


Our screen printing process begins like many others - we burn a screen based on the art colors/ layers needed for your design. After burning your screens they are washed by our new eco-friendly screen cleaning machinery. Once rinsed and dried, screens (which now act as a stencil for your inks) are applied to the necessary machine in order of art layering to complete your order!


Spot Color Printing Process
Spot color printing is the current industry standard, it is the most common selection by both printers and customers as it is familiar and consistent. Spot color printing is done by using individual colors or spot colors to produce designs. This process provides a very vibrant solid "spot" of color on your product. It also tends to produce thicker layers of ink depending on the ink type and the screen used. Printing in spot colors will be helpful in achieving opacity on darker garments. You can see this in effect on the "thought" image below.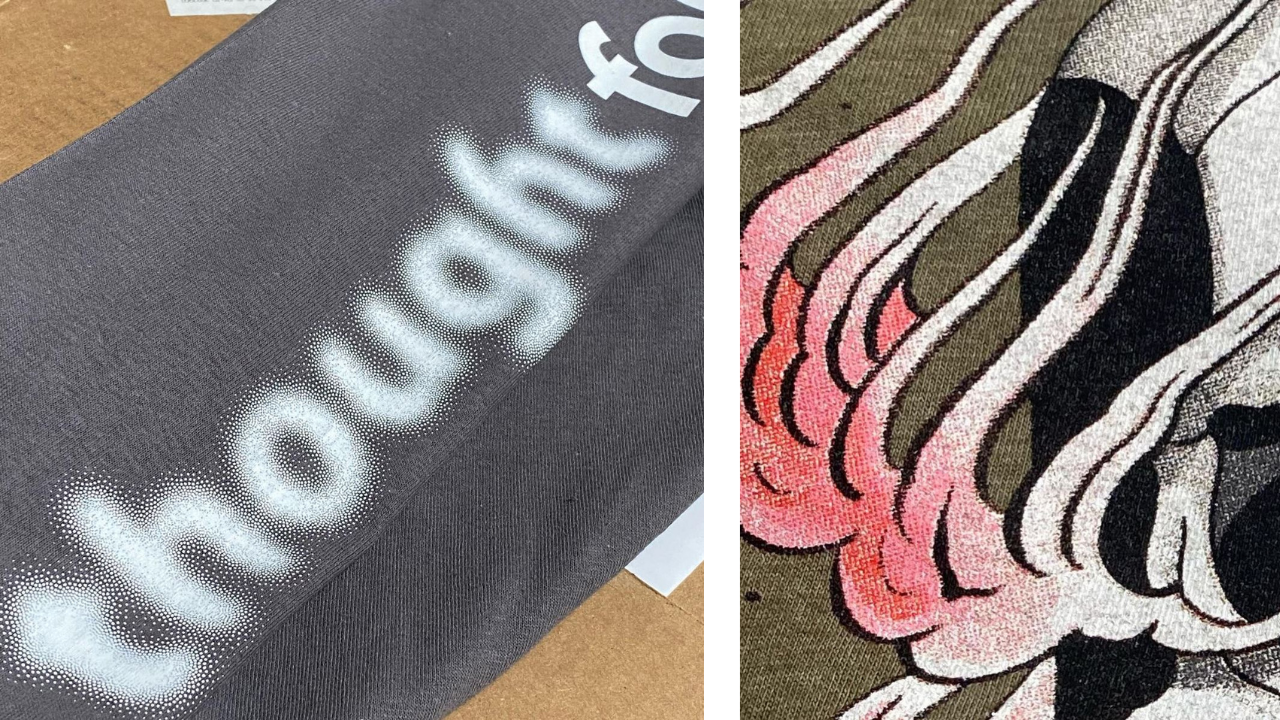 Halftone Printing Process
Halftone printing involves printing single or multiple colors in gradients. (See red & white image above). In this image we take a single color of ink and make it appear as two shades or more of the same color. These tones can range all the way from a solid spot (to create a dense vibrant solid tone) to a very fine halftone of the same color (which commonly looks lighter). This process is also sometimes referred to as a "spot and dot" this method is great when you want to achieve the look of multi-color printing without the expense of actually doing it. We ask that you trust the process & trust our artists, they are here to help!
4-Color Printing Process
With this process, we take a full-color photograph or image and break it down into its four constituent colors; cyan, magenta, yellow and black (CMYK) ONLY, to create and print any color, forming a full-color image. The printing process uses these four colors combined to recreate the full tonal color range of your original image. Each color printer is a halftone of the opposite color in the original image. Cyan is the opposite of red. Magenta is the opposite of green. Yellow is the opposite of blue. The amount of blue in the final print will be directly related to the amount of yellow ink that is printed. The same is the case for the other primaries respectively. Check out our example below! *Note that darker garments will require a base coat to ensure that colors remained vibrant and accurate against the product color.
Screen Printing Inks
Ink colors and options can be a make-or-break for your design. Choosing a unique color or color combination can create a fantastic image. We mix our inks by hand to match your specified Pantone colors so you can rest assured that your logos will stay on brand. Our artists pull colors from your image to match it to the most accurate Pantone color available. Pantone (meaning "all colors") developed the first color matching system, which is also the industry standard in color matching due to its color coding and accuracy. You can review the most recently available Pantone colors here!

Being selective with your inks is extremely important, it can create depth, texture, and focal areas such as below. This customer chose a solid black shirt, bone-white for the skeleton, and metallic gold to accent the accessories and make the color feel as regal as the design is. Below is a list of unique inks that can be used to take your design to the next level.
Unique Ink Types
Puff
This additive expands while being cured, for a soft, raised feel.
Fluorescent
Very bright neon colors, also known as "day glow".
Metallic
Popular ink for a shiny look. Typically in gold, silver, or copper.
Glitter
Contains glitter for a sparkly look, often combined with a clear gel.
Glow-in-the-dark
Almost clear, light-activated ink that glows in the dark.
Clear Gel
A thick glossy coating that can be used in combination with others.
Shimmer
Creates a unique reflective, iridescent shine.


Pros & Cons of Screen Printing
The Pros:
Screen printing is more cost-effective for large quantities.
Results in a softer feel on fabrics.
Designs are more durable and last longer.
Allows for more vibrant colors, even on dark-colored fabrics.
The Cons:
Limited to 8 colors per print location
The process can be messy and time-consuming up front
Expensive to set up requiring higher minimums – not suitable for small orders
Not ideal for photo replication