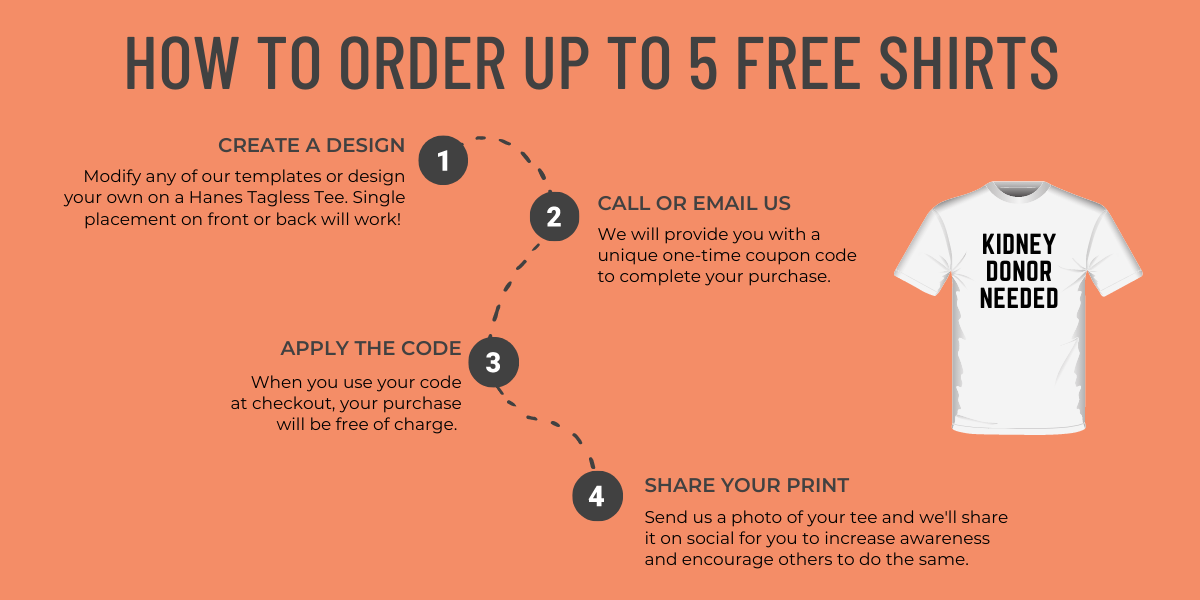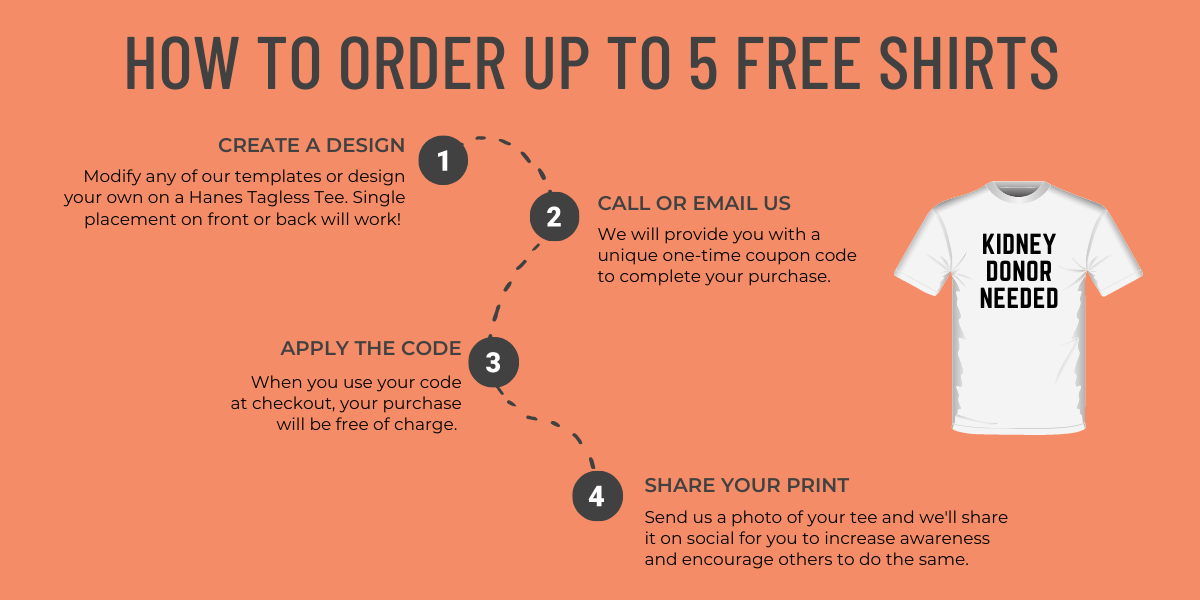 The Free T-Shirt That Saved My Life. View Luis Banda's Story Below.
We recently read an article in the Arizona Republic about a gentleman in need of an organ donor so he could have a kidney transplant. We realized that we can help people in the same situation and we want to be part of the solution. If you or a loved one needs an organ transplant, DesignAShirt would like to donate free of charge up to 5 shirts per family with a one color design similar to the one displayed on this page. We can only hope to play a small part in your journey to health, since that is a calling we want to participate in.
Our Design Studio has a template to create a t-shirt designed to help you find an organ donor. After designing and saving your t-shirt in our design studio, you are ready to place your order and include up to 5 t-shirts free of charge. During the checkout process, on the order summary page, use the coupon code provided by our customer service team to complete your order. Please contact our customer service team for verification of your order and to receive your personal code.
When designing your t-shirt, we highly recommend that you use your personal contact information on the t-shirt rather than directing potential donors to a 3rd party organization, which may leave that donor frustrated if they don't know who to talk to or your personal circumstances. It's better to establish a connection with them and afterwards direct them to the appropriate entities that can further evaluate whether they could be a match for you.
Also, once you embark on this campaign, answer your phone and/or respond to emails that you list as a point of contact on your t-shirt. You never know when a possible donor may be reaching out. We sincerely hope with a little bit of our help, your story can be an incredible one, too.
We will supply up to 100 free shirts per month to those in need. We would love to hear any success stories!
Bringing more attention to the demand of organ donations is a goal for all of us at DesignAShirt. With over 10,000 people waiting for kidney transplants alone, and the need far exceeding the availability, we believe awareness can benefit those impacted by these circumstances. Visit the National Donate Life Registry website where you can obtain information, sign up to be a donor, read inspiring stores, and watch educational videos.
Any questions? Call us at 888-487-4478.
I received my designashirt and am so happy with the print and quality of the shirt itself. It was a rush order and arrived a day before it was promised! Thank you to customer service for making this happen!
Sarah 
I've used Designashirt for several projects from 1 shirt to a few dozen and am always happy with the results. This batch was for the office and everyone is always excited to get new shirts. Customer service had to help me add a few different items to the order, but their response was quick and they even gave me a discount. Thanks!
Shelley S. 
Great customer service! The employees were really easy to communicate with throughout the whole process and were very helpful.
Micaela R.