Digital Printing
What is Digital Printing and How Does it Work?
Digital Printing or Direct to Garment printing uses a process very similar to your home printer…with a few larger modifications. Using the same inkjet technology, our specialized printers are able to print inks directly onto cloth; and while most printers are only able to print on white fabric, we are one of the few printers that can digitally print on both light and dark colored fabrics. Our process includes a pre-treatment that helps the ink stick to your product of choice and stay a bit longer. It helps with color vibrancy as well!
Digital/ DTG is a fairly new - and always developing/ improving print method that allows us to have no minimum for your print needs as well as permitting us to run a full CMYK color set. This way we can get you what you need faster and without much hassle!
Step 1) Pretreatment
To print consistently across various t-shirt compositions and colors, we use a pretreatment machine. The best way to think of pretreatment is a washable liquid that allows the ink to bond with its own surface instead of the t-shirt. This creates dependable, and long lasting, outcomes. The excess pretreatment is washed away when you wash your new t-shirt for the first time.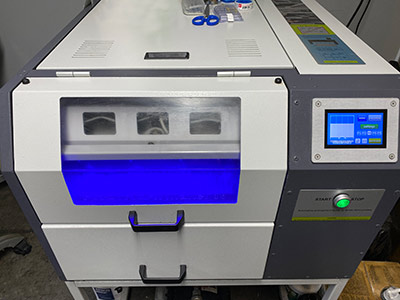 Step 2) Art Work Preparation
DTG is different from screenprinting in that vector based artwork is not required. This flexibility means you can also use unlimited colors. Our Art Department will double check your artwork to ensure the outcome is what you'd expect.
Step 3) Printing
The process of printing is similar to what you'd expect from a traditional inkjet printer. The t-shirt is installed on the platen to guarantee print placement and sent into the machine.
Step 4) Drying
Once printed, the ink will remain wet to the touch. We often run the prints down the same dryer we use for screenprinting to help aid in the curing process.
The Pros:
More cost-effective for smaller orders (requires no minimum order)
Easy to print images containing multiple colors and complex designs
Affordable setup keeps costs down
Produces high-quality images
Allows you to easily customize different shirts
The Cons:
Designs may not last as long as screen printed shirts
Colors may not be as vibrant as screen print
Images may not be as crisp if an low resolution image is uploaded or used
Want to see a video of how digital printing works? Click Here